Looking to write without distractions? You should try ZenPen, a minimalist writing tool. The tool is completely free to use, but if you find it useful, you can always tip the creator a coffee.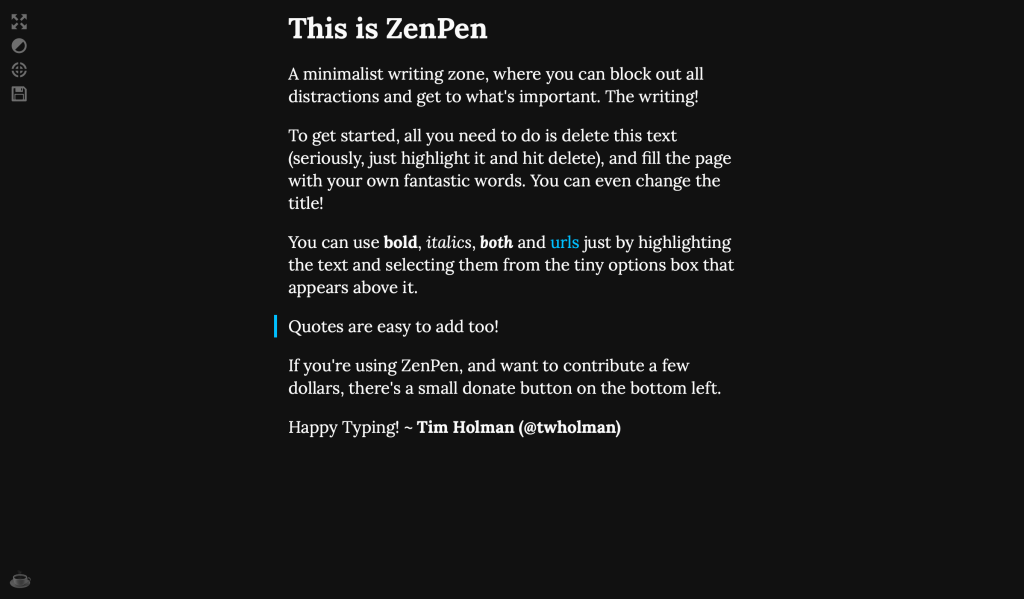 ZenPen Features
Browser Based Writing Tool – No need to download any software. You. can use ZenPen in your browser.
Dark Mode – There's nothing worse than trying to write at night and being blinded by your screen. ZenPen has a dark mode for night time writing.
Target Word Count – If you want to set yourself a writing goal, you can set a word count. You'll see a simple progress bar showing you how far away you are from hitting your goal.
Basic Formatting – While I love doing most of my writing in plain text, there is the option for basic formatting. You can bold and italic text as well as add links and quotes.
Multiple Save Formats – When you're done writing you can save to Plain Text, HTML or Markdown.
If you're looking for a really simple distraction free writing tool, then ZenPen is a great option.
Why Use ZenPen?
While there are an endless number of writing tools, here are some of the reasons why you might use ZenPen:
Journaling – If you're looking for a simple, distraction free journaling tool then you can use ZenPen. Just save your writing at the end of each day as a text file.
750 Words Writing Challenge – Writing 750 words each day is a common writing goal that has been used by many creatives over the years. It's basically 3 pages worth of text. You can set a writing goal using ZenPen.
Daily Writing Prompts – Use a daily writing prompt and see how many days you can complete each prompt. It's a great way to quick start your creativity and get you into the writing flow.
Distraction Free Writing – If you're just looking to block out distractions then this is a great tool. You can enter a full screen mode so there is nothing but a writing space.
Blogging – Writing in WordPress or other blogging tools can be a bit annoying. You can write using ZenPen and then transfer your work to WordPress.